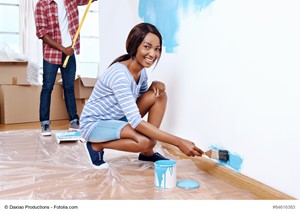 While home ownership can be a very satisfying and rewarding experience, it does bring with it a new set of responsibilities and demands. Whether you're buying a brand new home or a fixer-upper, several things will have a major impact on your lifestyle.
One of them is the need is to personally handle or manage your own repairs, decorating, and home improvements. In many cases, you can (and should) hire a professional to do the actual work, but there are a lot of projects you can do more cost-effectively on your own.
The first one that comes to mind is interior painting. If you want to keep your home looking fresh, well maintained, and visually appealing, repainting your walls and ceilings every few years is a necessity. How often you need to break out the paint brushes, rollers, and drop cloths depends on several factors. For example, some rooms are subjected to more wear and tear than others. Bedroom walls, hallways, and bathrooms often seem to need the most attention, but kitchens, family rooms, and other areas of the home are usually not far behind.
If you've been noticing that one or more of your rooms are starting to look scuffed, faded, or dull, then it may be time to roll up your sleeves and give those walls a fresh coat of paint! It always makes a dramatic difference in the look and feel of that room, and it typically can be completed in less than a day -- especially if you team up with an energetic spouse, friend, or family member. If you're focused and organized, a room-painting project can often be completed by lunchtime. (Depending on who's providing the help, however, you might be expected to provide lunch!)
When procrastination is a problem, taking small steps will often help you gather momentum and keep moving forward on your painting project. An easy, but necessary first step is to pick out and bring home an assortment of color samples from your local hardware or paint store. Holding them up to your walls and seeing whether they complement existing furniture, flooring, and decorating schemes will help you choose a color you'll be satisfied with.
If you're not ready to tackle the project right away, you can still purchase the paint, rollers, and other supplies. Assuming you're not going to postpone the project indefinitely, you'll be a lot more likely to get started in the near future if the supplies are already in the house. You'll be streamlining the process and nudging yourself to get the job done soon by purchasing the painting supplies and having them close at hand.
While motivating yourself to do projects around the house may sometimes seem to be the biggest hurdle to clear, starting small and gaining momentum as you go is often an effective way to keep your home looking its best at all times!