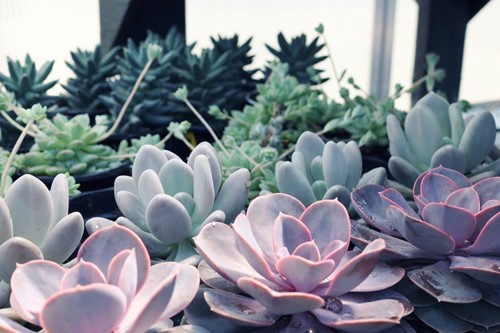 For houseplant enthusiasts, there never seem to be enough plant pots. While lots of household items can work as planters for houseplants, finding items that work as well for succulents can be difficult. This holds true especially for succulent arrangements with multiple plants in the bunch. To help inspire you here are some tips for items you can turn into DIY planters to house all of your favorite succulents.
Tea Tins
If you like tea as much as houseplants, you might already have some empty tins looking for a second use. Tea tins are the perfect size for single succulent planters and the variety of tea labels provide you with a bit of art on every one. Try poking a hole into the bottom of each tin for drainage and arrange multiple succulents in tea tins for a charming piece of kitchen or dining room decor.
Berry Baskets
Berry baskets are full of holes and therefore may not seem like an excellent choice for planters. However, as long as you use chunky potting mix made especially for cacti and succulents, you'll find the holes are incredibly useful for drainage without losing soil. Try planting a few colorful succulents in a berry basket to give as a gift or even to use as a festive centerpiece.
Logs
For a rustic and natural take on DIY planters, try hollowing out a stump or log. Succulents do not have deep root systems and therefore don't require a lot of room to grow, so you don't have to hollow out the entire thing. Instead, you can use a handsaw to cut out a small portion in the top for the potting mix and plants to rest. This makes a fantastic piece of outdoor decor for your porch or patio.
Cinder Blocks
Cinder blocks are fantastic DIY planter options because you can use them almost as-is. The only thing you may wish to do is add a tray underneath so the potting mix doesn't fall out of the open bottom. Otherwise, simply clean up a cinder block, add the planting medium and succulents and you're done. The contrast between the rough edges of the cinder block and the soft colorful shapes of succulents makes for a great statement piece and adds instant rustic charm.
Shower Caddies
If you're short on space and looking for ways to hang your plants, try repurposing an old shower caddy. You can turn these into DIY planters in a few steps by adding a layer of mesh or moisture-wicking fabric to the bottom of each caddy shelf. Then all you need to do is add your soil mix and plants. This gives you a great opportunity to mix in trailing succulent varieties and other varieties that spread or grow upward. Hang the shower caddy planter off of your fence outside or off of the wall in the home for a funky and simple vertical garden solution.